Happy New Year! We're kicking off 2018 with an especially awesome Onshape update. It was gratifying to see customers in the Onshape Forums enthusiastically welcome these new features and enhancements within minutes of going live:
CONFIGURATIONS
In Onshape, you can now quickly build multiple variations of your parts using parameter-driven configurations. Other CAD systems require all configuration options to be represented in a single table with entries for each conceivable permutation, which in some cases can lead to hundreds or thousands of rows in that single table. As configurations get more complex with more options, that table grows exponentially – making it virtually impossible to understand, troubleshoot or manage.

Onshape's approach focuses on making it manageable for users to build and use the sophisticated configurations that modern designers often need. To do this, Onshape lets you build complex families of parts by creating separate small tables for each set of independent configuration options. This dramatically reduces the number of required table rows and cells. No more monster tables. For example, in file-based CAD, a simple bracket with 5 lengths, 5 heights and 5 hole patterns would result in an enormous 375-cell table to manage in a clumsily embedded Excel spreadsheet. In Onshape, this same configuration results in 3 tables of only 5 cells each and is edited with a native intuitive user experience.
To fully appreciate the power and flexibility of configurations in Onshape, a series of blog posts and webinars are scheduled for this month, so please stay tuned
However, before you dive in and start building configurations for all your fasteners...
STANDARD CONTENT
Onshape now provides a built-in library of standard fasteners for use in assemblies. Each fastener includes a mate connector to make them easy to assemble. Automated assembly tools make stacks of fasteners like "bolt-washer-washer-nut" combinations easy to build.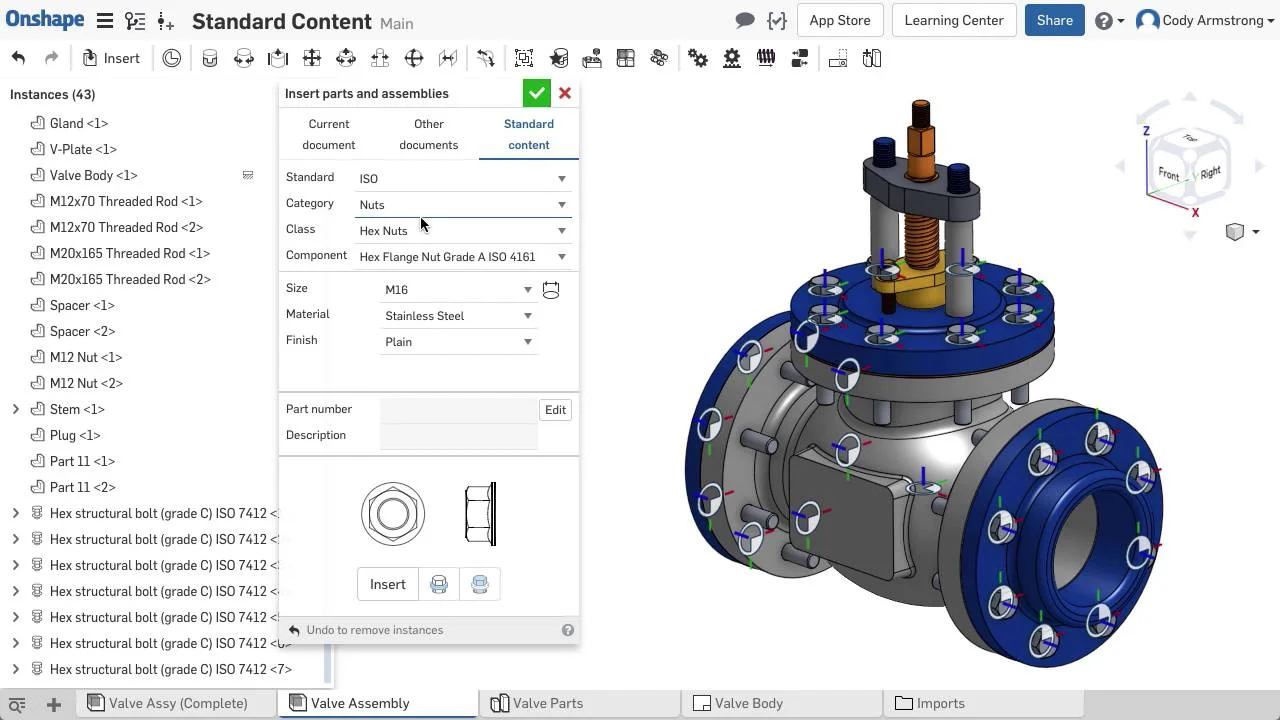 ROLLED SHEET METAL
Onshape will now recognize large radius arcs and extruded splines and convert them into rolled sheet metal parts.
CREATE SELECTION IN SKETCH
The Create Selection tool can now be used in sketches to select entities that are tangent, connected, equal in length/radius, or parallel.
SKETCH VIEWS IN DRAWINGS
You can now insert a view of a sketch into a drawing to detail layouts or simple platework that don't require a full 3D model.
VIEW IMPORTED 2D DRAWINGS
Imported 2D drawing files in DWG, DXF or DWT format can now be viewed inside Onshape without having to first create an Onshape drawing.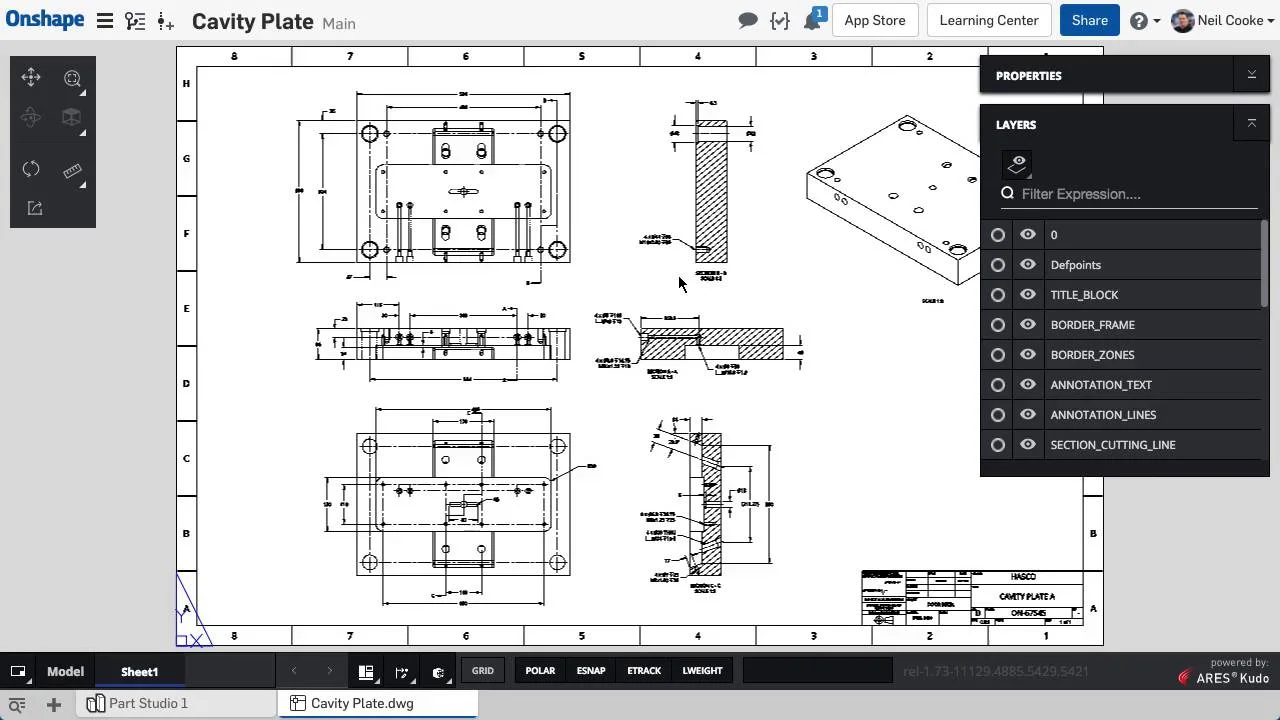 "S" KEY SHORTCUT TOOLBAR IN DRAWINGS
The "S" key shortcut toolbar is now available in drawings. You can add dimensions, datums, notes and more by pressing the "S" key on your keyboard and selecting one of the icons from the customizable toolbar that pops up right by your cursor. This new shortcut toolbar will significantly reduce your mouse travel when creating and annotating drawings. To change which icons are shown, go to "My Account" in the top right corner of the screen, then "Preferences."
SHEET PROPERTIES DIALOG AND REFERENCE LINKS
The sheet properties dialog is now more consistent with other dialogs in drawings. There are also new link icons in the sheets and view properties dialogs that will switch the tab to the referenced part or assembly in the current Onshape Document or open a referenced linked Document.
SELECTION IMPROVEMENTS FOR SHEETS FLYOUT
In the new sheets flyout, you can now select more than one view from the list. This enables you to modify multiple views on a single sheet (for example, to remove all tangent lines from every view on the sheet) or delete multiple views from multiple sheets at the same time.
For a detailed list of all the changes in this update, please see the Onshape Changelog.
Do you have a great idea for a new feature or improvement in Onshape? Please post your ideas in the Onshape Forums or vote on existing feature requests to help us prioritize development.